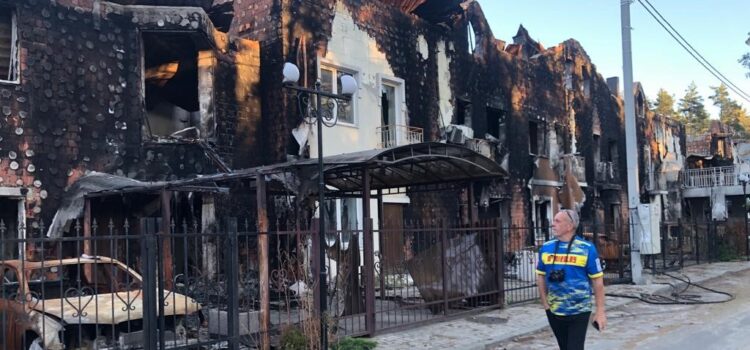 On 12th March the Parish Lunch team put on a relatively simple "Lent Lunch" to raise money for Nick Wormald's activities to support Ukraine. The lunch was well attended, not least because Packwood parish was well represented as part of our efforts to build stronger relationships between Baddesley Clinton, Lapworth and Packwood. Nick, who is from Knowle, talked about the things he has been doing for Ukraine and showed some dramatic pictures. £902 was raised. A big thank you to the Parish Lunch team and all who contributed in different ways. – Fr Patrick
Nick Wormald writes:
At the start of the Ukraine crisis, Hungarian friends of mine drove to Tiszabecs, a crossing on the Hungary-Ukraine border; the scenes were chaotic, relying solely on volunteer help. We spoke when they returned home; I said I ('we') want to help; 'how', I asked; my friends' response was 'cash, cash, cash'; there was no organisation; no food, no water, no free toilet; no transport; nothing.
On the morning of Saturday 5 March 2022, I went to my local Prontaprint; they printed me 150 letters; I placed them through nearby letterboxes; I was hoping to raise maybe a couple of thousand, never imagining a dawn was breaking …
… as I write this short article on Easter Sunday, 9 April 2023 'we' have now raised £54,336. The extraordinary generosity of our local community has enabled us to:
Buy train and bus tickets for fleeing refugees
Provide toilets and hot water at Budapest Keleti Railway Station
Provide sandwiches, food and water for fleeing refugees
Pay 250 forints (60p) per refugee for them to use the toilets at Keleti
Part fund and establish the 'Baby Mama' facility in 'The BOK' transit camp
Food and aid to 'Foundation Saint George Caritas' in Uzhhorod, Ukraine
Fund the 'Learning Without Borders' school in Budapest until June 2022
Source UK Sponsor Hosts and bring 22 refugees to our community
The picture is Hostomel in Ukraine; shortly, I return to Ukraine for the tenth time to continue our project work. If you would like to read more, you can do so at: https://gofund.me/05ca1544 .
Lent Lunch for Ukraine with Nick Wormald