MUSIC & THE CHOIRS
Music at St Mary's is highly valued by the congregation, clergy and wider community alike. Building on a fine musical tradition, we currently have:
professional choirmaster and organist
organ scholar
two robed choirs: a four-part adult choir and a treble-line junior choir
occasional visits from instrumentalists (such as trumpeters) to enhance the choral music
ADULT CHOIR
St Mary's has a well-established adult choir who sing together weekly throughout the year. Here are some reasons why our singers enjoy being in the Choir:
We perform music from a wide repertoire, ranging from 16th century mass settings right through to contemporary compositions. We sing hymns old and new, traditional chants and responsorial psalms, favourite and lesser-known anthems. We sing both accompanied and unaccompanied music.
We visit different venues to sing: we regularly sing in different local churches as part of "cluster services" and occasionally travel further afield to visit beautiful churches and other settings.
We enjoy incredible health benefits from regular singing, from stress relief to an improved immune system ( Ron Binnie on health benefits )
We are friendly and welcoming  – it's a great place to meet new people of all ages.
We have great fun together!
Everyone is welcome, as long as they enjoy singing and can attend regularly. There is no audition to join. Although it is helpful if you can read music, this is by no means a requirement. You will pick up a lot of music skills once you start singing regularly.
We are always delighted to hear from new members. Whether you are joining alone, with a friend or alongside your child or grandchild in the Junior Choir, you will find a warm welcome in the Choir. Come along to a rehearsal, a service or contact our choirmaster Ron Binnie (details below).
JUNIOR CHOIR
St Mary's is pleased to have an ever-growing Junior Choir. Girls and boys from age 8 (school year 3) up to age 18 join as probationers. After a short period of singing with the choir successfully, children become full members of the Junior Choir and receive their white surplice (see picture).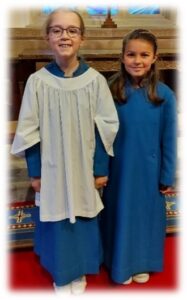 Junior choristers usually sing with the adult choir, but occasionally perform on their own.
Children derive great benefits from being in the Junior Choir (in addition to those listed for adults above):
Get free, outstanding musical education: develop a strong singing voice, learn to read music, understand how music works and is put together, and work through the RSCM ribbon acreditation scheme.
Develop self-confidence: the rare opportunity for regular public performance helps children to develop sense of achievement and self-confidence. Those that wish to, might be asked to sing a solo or, if they play an instrument, perform as part of a service.
Develop team working skills: each voice and part has to work colaboratively with the others to deliver the full choral sound.  Juniors usually sing the high profile melody line.
Receive pocket money for singing: a small fee is paid to children for singing during the year.
We hold open rehearsals for interested new members from time to time, watch out for announcements on our website and social media channels.
Once a boy's voice starts to break, or has broken, we encourage them to sing in an appropriate, lower voice part.  This can be a sensitive time for boys, and our choirmaster is very experienced at making sure they feel comfortable and confident in this transitional phase.
At any time in the year, contact our choirmaster Ron Binnie (details below), if your child is interested in joining.
SERVICES
The Choirs lead the 11am Choral Service at St Mary's each Sunday in the following monthly pattern:
1stSunday – Family Service
2ndSunday – Parish Eucharist
3rdSunday – Parish Eucharist
4thSunday – Matins
5thSunday (if there is one) – Matins
The Choirs support additional services throughout the year for special occasions, including Christmas, Easter and other feast days. These take varied formats, including Evensong and Compline. There are also a number of optional occasional offices such as weddings, baptisms and funerals for which a modest honorarium is paid.
Members of the Choirs regularly have the option to join forces with other local church choirs to perform in concerts or sing in services for special occasions.
CHOIR PRATICE
All practices are held at St Mary's Church.
Adults
Fridays – 7.15pm to 8.30pm
Sundays – 10.30am before the service at 11am
For special services, practice is usually 1 hour before the service.
Juniors
Fridays – 6.30pm until 7.45pm (joined by the adults at 7.15pm)
Sundays – 10.30am before the service at 11am
For special services, practice is usually 1 hour before the service.
CHOIRMASTER
Ron Binnie started as Organist and Choirmaster in January 2021.
Read about Ron Binnie's musical background.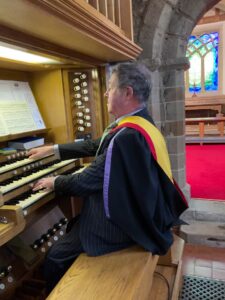 Ron is always pleased to hear from people who are interested in the organ or choir.
Tel: 01926 408778, Mob: 07585 552455, Email: [email protected]  
THE ORGAN 
We are proud to have a Nicholson three manual organ that was bought and completely rebuilt with additions in 1997.